Top Ten Tuesdays
is a weekly meme hosted by
The Broke and the Bookish
. Each week bloggers make a list of 10 items answering a certain question. I think this meme is a great idea, and as I am always looking for ideas to blog about, I am going to give it a shot. This weeks question:
What are the top ten books you just had to buy, but still haven't read.
As most of you probably know, I have a problem when it comes to buying books. That is, I can't stop buying them. The results of this addiction are a shelf of almost 80 unread books, and the decision to go on a book buying ban (I have since resorted to getting my hands on free books, because that doesn't count right?). So here are my top ten dust collectors: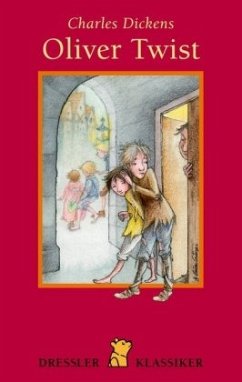 Oliver Twist by Charles Dickens
This German copy of Oliver Twist has been on my shelf for years, maybe a decade. I think I tried to read it at least twice, but I never really got very far. I don't really remember why, maybe I just couldn't appreciate Dickens' style yet (or rather the way it was translated), or maybe I just couldn't really get into it, maybe I was too young. I really want to give this book another try. It is a classic and Dickens is an author I definitely want to explore. I might give this copy away and get my hands on an English copy, since I prefer reading works in their original language.
The Great Gatsby by Scott F. Fitzgerald
I know - shame on me! Most kids get to read this in high school, but I never did. So I picked this up last summer, but I still haven't read it. I know this is an absolute must read for everyone, so its definitely one of the books I want to pick up next. Plus, the movie will be released in May, and since I am a believer of reading before watching, I am going to have to read it soon.
The Corrections by Jonathan Franzen
I discovered Jonathan Franzen through my high school English teacher (shout out to you, prof, if you're reading this!) and was immediately intrigued with his personality and writing. When I discovered
Freedom
at an airport a while later I had to pick it up, and when I fell in love with Freedom, I immediately added The Corrections to my shelf. And there it remains ...
An Abundance of Katherines by John Green
Unbelievable that I, as a lover of the
vlogbrothers
and all things nerdfighteria, haven't read this book yet. I have read
Looking for Alaska
,
Paper Towns
and
The Fault in Our Stars
, but I am still missing two of John's books (maybe I should have read them in the order they were written?). I'm pretty sure that when I pick this up it will be a great read, with lots of emotion and teenage wisdom. Can't wait!
Will Grayson, Will Grayson by John Green and David Levithan
And here we continue with the theme of unread John Green books. David Levithan is another great writer: I absolutely adored how original
The Lover's Dictionary
was (read it!) and I quite enjoyed Nick and Norah's Infinite Playlist as well - I even wrote a
review
of it. I hope I find the time to read this book soon, I am sure a book by two such great authors can only be fantastic!
The Curious Incident of the Dog in the Night-time by Mark Haddon
I have started reading this book about three times, and each time I put it down again. Please don't ask me why, I cannot tell you. The story is built on such a great premise and I always enjoyed reading the first few chapters. It was never the book's fault that I didn't keep reading, and I am looking forward to the day that I will pick it up again to read it from cover to cover.
Siddhartha by Hermann Hesse
This is beginning to get kind of embarrassing. Siddhartha is one of the best known pieces of German literature and something I probably should have read by now. I have had this book for about three years, and I have taken it on about every trip and vacation hoping I would finally read it, but that never happened. Maybe this summer?
The Name of the Star by Maureen Johnson
To be quite honest, I have no idea what this book is even about. All I know is that nerdfighteria, booktubers and YA book bloggers seem to love Maureen Johnson, and so this ended up on my wish list. Ever since christmas 2011, this book has been patiently waiting to be picked up and turn me into a Maureen Johnson fan as well. I hope that this can happen soon.
The Girl Who Played with Fire (Millenium #2) by Stieg Larsson
This book was my 19th birthday present from my very good friend. I recently turned 20, and I still haven't read it. I did read The Girl with the Dragon Tattoo (Millenium #1) this January, though, and really liked it. There is hope!
Romeo and Juliet by William Shakespeare
I only reluctantly admit that this is another one of those classics that I haven't read yet. There is not much to say about this one, except that it is about time I read it - for never was a story of more woe than this of Juliet and her Romeo.
If you have suggestions on what I should read next, please leave me a comment! :) If any of these books have sparked your interest, clicking the image will take you to its goodreads page.